Master Plan
With health and wellness as a priority more than ever before, ECU Campus Recreation & Wellness wanted this master plan to highlight Well-Being areas of need. This cross-departmental master plan specifically targets recreation and wellness spaces that are aging, in need of repair and renovation, and the need for additional spaces. In this process, it was clear that the needs of Health Services, Counseling Services, Dean of Students and the Office of Disability Services for our students was at a critical juncture in regard to space and access for students. This plan goes into greater depth and needs specific to the recreation and wellness than the University Master Plan.
The process started with students in mind by simply asking them what wellness meant to them. There was a broad-spectrum of answers that covered physical activities, mental health, physical health, and pure fun. The process then developed focus groups to discuss specific needs within areas that typically relate to wellness such as, Campus Recreation & Wellness, Student Health, Dean of Students, Counseling Services, ROTC, and our academic programs in Health & Human Performance. Community input was collected which included the school system, Greenville Recreation and Parks, County Recreation, and the local Sports Commission to name a few.
Eakin Student Recreation Center celebrates its 25th anniversary in 2021. While this and many other facilities have served Pirates well, it's time to look to the future. New facilities that connect student services inter-departmentally are becoming higher in demand. Our future Pirates deserve to have a space that fosters connectiveness and well-being initiatives. We hope this is the start of a broader vision for health and wellness in Pirate Nation.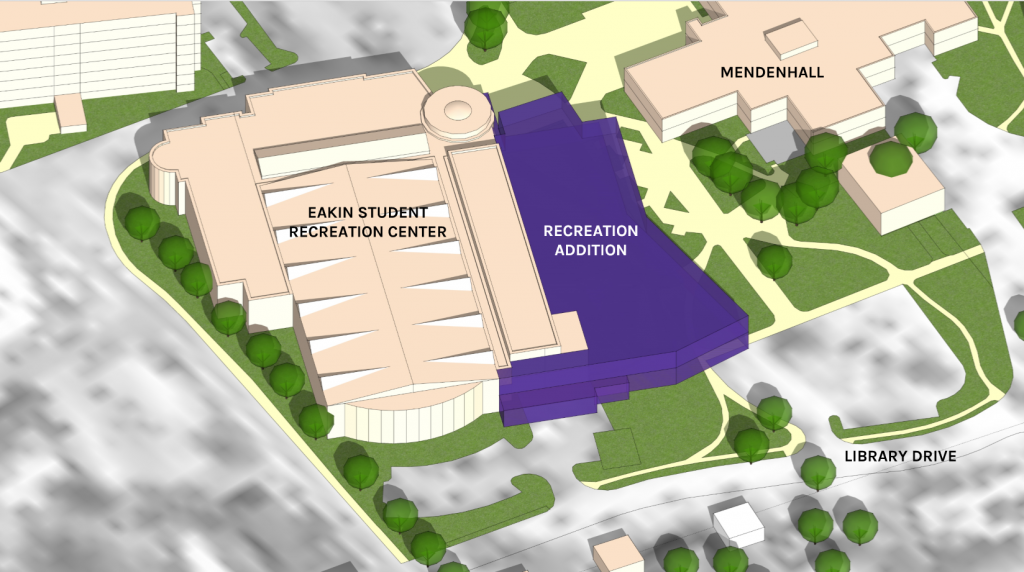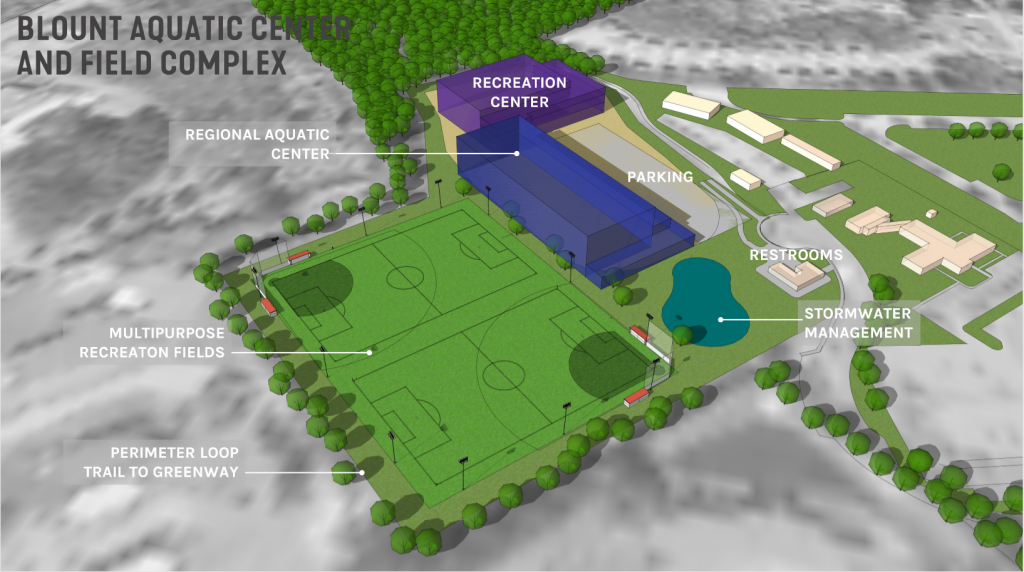 EAKIN STUDENT RECREATION CENTER
AQUATIC FACILITIES & BLOUNT SPORTS COMPLEX
Opened in 1997 on the Main Campus, the Eakin Student Recreation Center has reached capacity and no longer meets square footage per student by industry standards. Options are proposed to expand this space to provide additional functional training, multipurpose space, and courts.
Existing campus aquatic facilities do not support a variety of activities. Proposals include a larger collaboration with recreation, athletics, academics, the City of Greenville, and surrounding aquatic venues to support a regional option.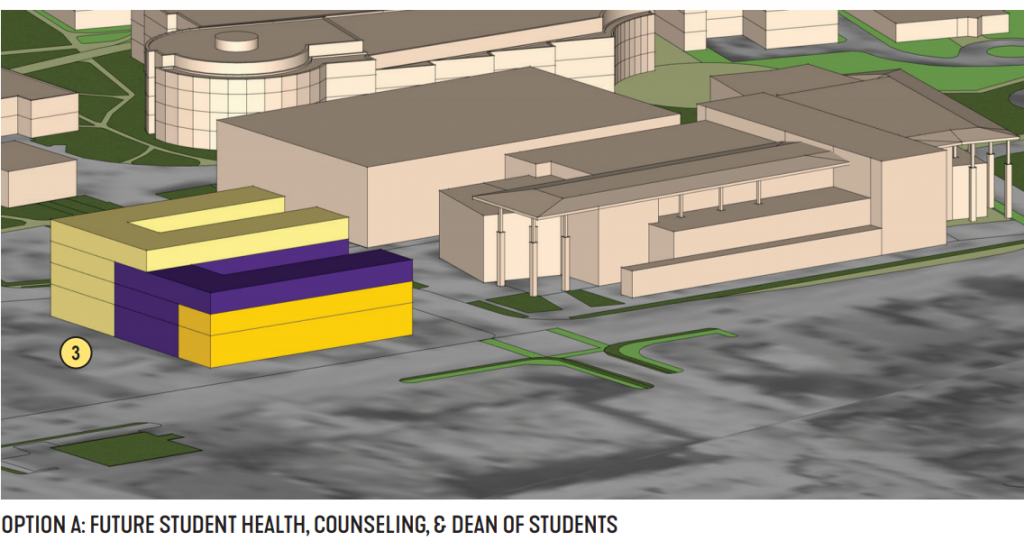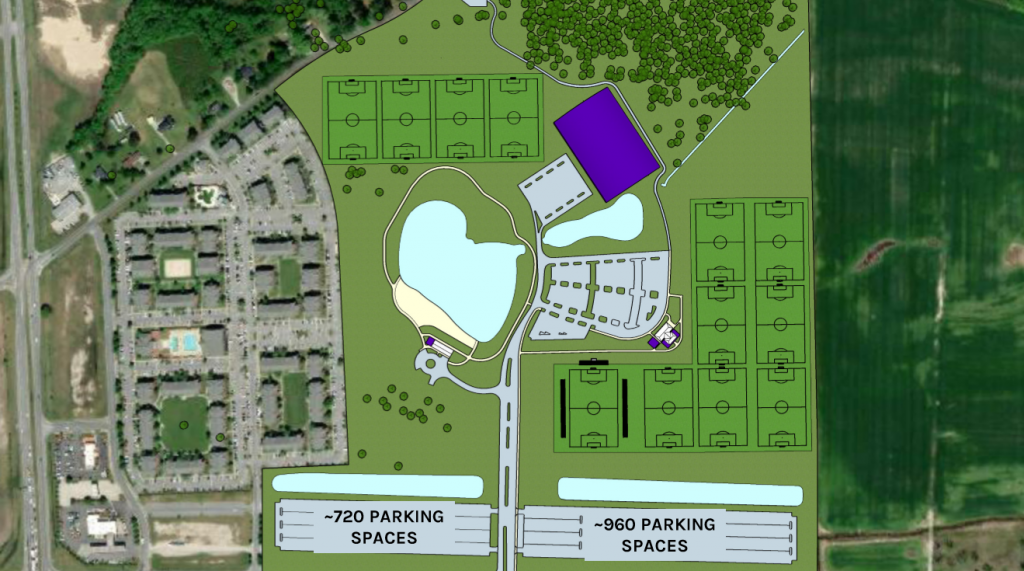 STUDENT HEALTH, COUNSELING, DEAN OF STUDENTS
NORTH RECREATIONAL COMPLEX
These services are very connected to a student's physical and mental well-being. Current spaces have a number of deficiencies compared to peer-reviewed institutions. This is a growing area and the current spaces limit our growth and opportunity. 
The NRC has 129 acres, much of which is still undeveloped. The master plan looks at adding four additional playing fields and an indoor performance center to support university, local, and regionally-sanctioned events. This continues to connect the university and the City of Greenville.
CAMPUS RECREATION & WELLNESS AT A GLANCE
18,000 unique members use recreation programs and facilities annually
507,000 annual visits to the Eakin Student Recreation Center
87 percent full-time students participate annually
Host 130 sections annually of academic courses to over 3,000 students
4,000 annual visits to the indoor climbing wall
2019 – 904 Summer Camp registrations; 292 unique campers
Employing more than 450 students, Campus Recreation & Wellness is one of the largest employers of students on-campus with more than $1.1 million dollars of student fees returned to students via wages annually
"Pirate Nation is about community and the Campus Recreation and Wellness Master Plan is a perfect example of that unity. I am so impressed by the development of this plan and how it brought together offices and departments from across the university along side city, county, and community members to build a plan for the future, not only for East Carolina University but Greenville and Pitt County as well."
- Associate Vice Chancellor, Erik J. Kneubuehl, EdD
SUPPORT THE MASTER PLAN
Your contribution to the Campus Recreation & Wellness Master Plan for new facilities reflects your commitment to improving Pirate Nation for students, faculty/staff, and the greater Greenville community.
The donation you make today will help provide more opportunities for students to stay active, balanced, and connected to campus. Thank you for your generous support and for your vision of an even better East Carolina University.